As a proud owner of these headphones, I encountered a problem when I tried to connect them on any of my Windows 10 machines. These headphones working exceptionally well with any mobile phone or Linux machine. Sadly there is some kinds of problem with Windows 10 Bluetooth stack.
Everytime I paired or connected those headphones, they froze, the sound in them got stuck, and the only solution to start them again was to connect power to them. This way they can be hard reset. It took me some time to resolve this problem. Thankfully after two days of trying I found a solution for it, and I would like to share the exact steps I took to fix this problem with you.
First step would be disabling "absoluteVolume" which can be causing these issues. You can do this by opening command line as Admin and running following command:
reg add HKLM\SYSTEM\ControlSet001\Control\Bluetooth\Audio\AVRCP\CT /v DisableAbsoluteVolume /t REG_DWORD /d 1 /f
Now we need to connect our bluetooth Headphones. So, go to Bluetooth settings and pair your headphones. They probably freeze once you pair them, and they try to connect. Just plug them into power to reset them.
Before turning them on again, we need to first disable Avrcp Transport for this device. Open Device manager, go to Bluetooth, and disable "Bluedio T 5th Avrcp Transport" device.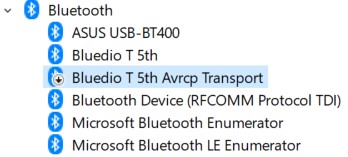 We are pretty much done there. Following step is optional but, I recommend doing so. Headphones can be connected now, but they probably connect as Hands-Free device, which results in a poor sound quality. As I do not want to use a microphone on them at all and I prefer the good quality sound, I also disabled the Hands-Free device in Sounds settings. It looks like this now for me: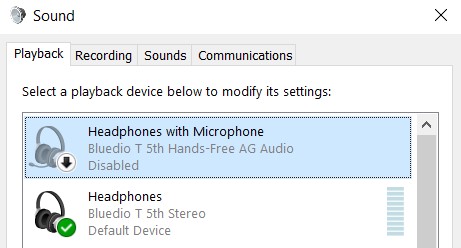 Now, everytime I turn on my headphones, they automatically connect to my Windows 10 computer without any issues, working like a charm ;) Let me know if you were successful or not!
Note: I was only able to find this solution thanks to this guy. All kudos to him ;)